1.  Why has Asia Global Travel chosen to develop charity organization service?
Charity activities are seen as works of heart, coming from the good will that yearns to help and share with the underprivileged in life.
      Ever since its birth, Asia Global Travel has frequently organized charity trips for our employees. Despite being non-profit, they provided us with countless values, such as personal awareness to social responsibilities, a strengthening of bonds between employees with each other and with their management, a means of relief from the usual stressful life and work through the act of sharing, etc.
      With the vigorous growth of social media, the will and effort to support more unfortunate people has gathered increased attention from the community. These are meaningful and highly educational activities, yet lack the coordination and professionalism they deserve.
      The lack of professionalism from the organizers could quickly lead to severe consequences. One could only imagine how disastrous it would be when all the material and mental support, which you have generously contributed, is given to undeserving beneficiaries. The disadvantaged might not be helped, while the opportunists benefit, and the endeavor that you, the community and the society has entrusted is betrayed.
      Heavily burdened by such issues, we at Asia Global Travel have been focusing in the development of charity organization service, in order to become a proper connection between the Giver and the Recipients in the process of a charity activity.
     2. 

How does Asia Global Travel organize Charity Activities?
     Not simply a for-profit organization, we always aspire to be part of charity activities, working beside individuals and organizations in bringing meaningful presents to the less fortunate lives. Therefore, Asia Global Travel has invested a considerable amount of power and effort in this type of service.
      To achieve the optimal efficiency for charity activities, Asia Global Travel has been applying a professional and standardized procedure as follow:

     3.  Some specific activities by Asia Global Travel in the past (with actual footage): 
•  Refurnishing schools in remote areas, tree planting in school vicinity.
         •  Exchange between Vietnamese and overseas students, combined with charity activities in the region (e.g. environmental day, galas with poor children on Children's Day and Mid-Autumn Festival, visiting and present giving to lonely elders, etc.)
         •  Awarding scholarships and other encouragement packages to poor students.
         •  Organizing classrooms for homeless children at child shelters…

Foreign student group visit and give presents to lonely elders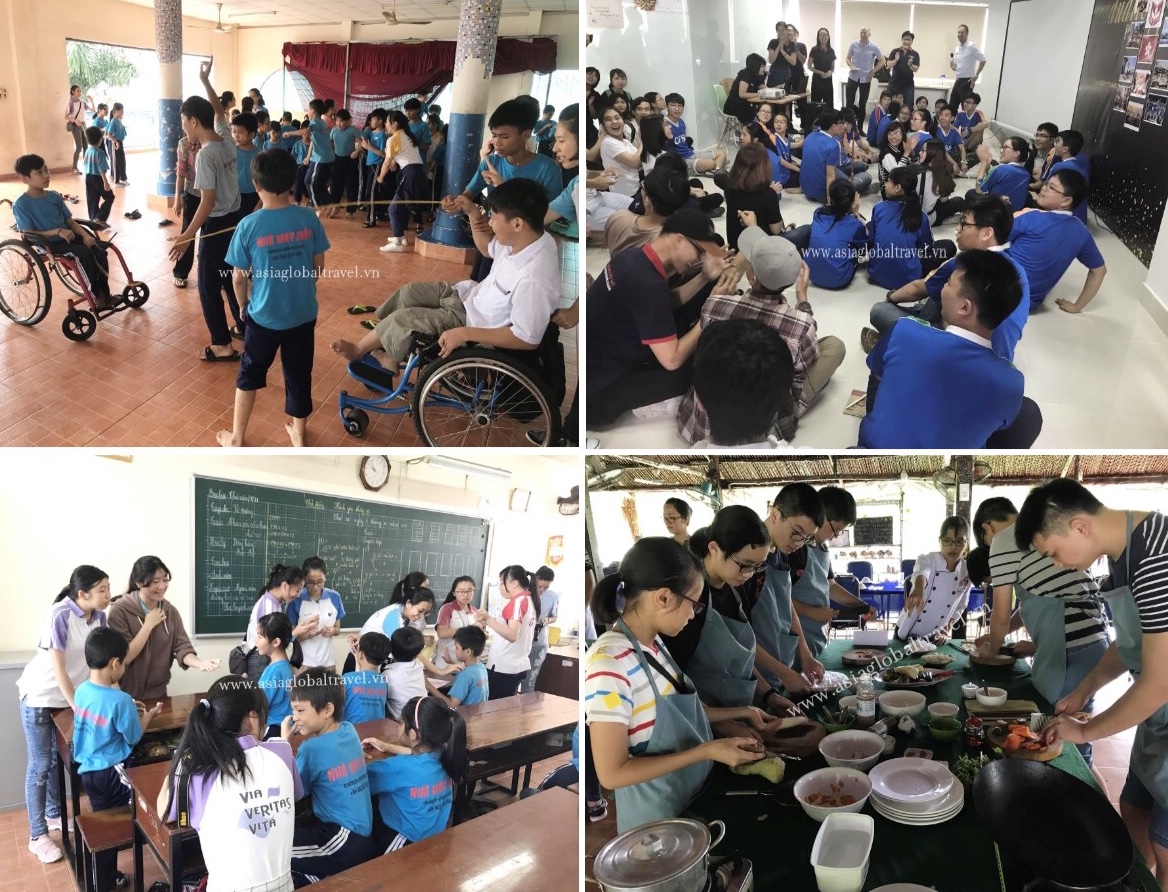 Exchange students tour combines visiting to orphanage and cooking class

Asia Global Travel organized the trip for foreign students to kindergarten at Lung Mon, Gao Giong, in January of 2019
Charity activities including of playing with kids, giving gifts and painting classrooms
     4. Why choose Asia Global Travel?
Asia Global Travel is confident in developing its service for charity activities because we have gathered the following qualities:
         •  Nation-wide connections: with a history of various operation and wide-spread connections, Asia Global Travel can support its customers in charity events of medium to large scale in all regions. We proceed requests for visits to towns, cities, provinces or nation-wide tours with professionalism and standards..
         •  Detailed, in-depth consultations: consultant and expert groups can provide support and answer all possible questions from our clientele. Depending on the requirements and information received, we present multiple optimal options and suggestions to ensure the event's success.
         •  Detailed, reasonable quotation: We understand that charity events work on limited budget. Utilizing its connections, Asia Global Travel can help its customers in optimizing budget, limiting costs incurred while maintaining the quality of the operation.
         •  Full completion of promised obligations and honesty to customers.
Charity organization service
Asia Global Travel in partnership with communities to proliferate positive values
ASIA GLOBAL TRAVEL TRADING COMPANY LIMITED
165/61 Nguyen Thai Binh Street, Nguyen T. Binh Ward, Dist 1, HCMC, Vietnam
Tel : ( +84 28 ) 3915 3908 – Fax : ( +84 28 ) 3915 3980
      Email : info@asiaglobaltravel.com.vn